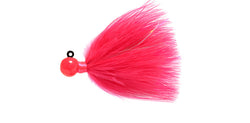 Sy's - UV Marabou Jigs #03
Description
Colors
:
Cerise (Hot Pink)
Sy's Maribou Series Jigs are composed of six premium grade marabou feathers and a touch of marabou flash. This feather-flash combination has proven itself time and time again with violent take downs and monster fish!
Great for Salmon, Steelhead, Trout, Walleye, and Bass.
Sizes
: 1/16, 1/8, 1/4 ounces.
Features
Customized Gamakatsu Hooks with 1/0 Wire Premium Marabou Feathers & Flashabou UV & Fluorescent Dyes & Pigments Powder Painted Heads With a Scent Free Finish Unpainted Eyes on Every Jig Hand Tied & Inspected