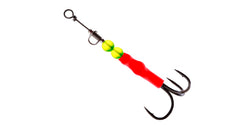 Simon Switchblade #4
FL Chartreuse Beads / FL Flame Beads
If you are like many of us, swapping out spinners for a new pattern or size is a ritual that happens every 20 to 30 minutes.  The problem is you lose valuable fishing time and end up chopping up those leaders that were measured to perfection the night before. Until now! The Simon Switchblade with our metal quick change clevis makes swapping spinner blades simpler than ever. Even better is the fact you can mix and match colors of the bodies and blades to making a truly custom spinner.
As with everything we manufacture, perfection is what we do. We use only stainless steel wire, fluorescent/UV tubing and beads combined with our chemically sharpened 3x strong Seaker treble hook. Nothing else on the market performs like a Simon.  
The Simon Switchblade is designed to work perfectly with 3.5 Colorado spinner blades. You can also use size 3 or size 4 Colorado's with similar results.