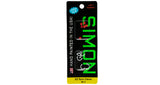 EZ Spin Plastic Clevis _ White
Simon EZ Spin plastic clevises are a must have for anyone putting spinner blades on leader, mainline, or monofilament. Unlike metal or wire clevises, the Simon EZ Spin Plastic Clevis will not chafe or otherwise damage your line even after prolonged use. Available in super strong black and white plastic as well as your choice of beads, these clevises will help you put more fish.
Sold in 6 ct packages with 4mm beads included.
SEZ1001-W - White Plastic Clevis with Flame Beads
SEZ1002-W - White Plastic Clevis with Chartreuse Beads