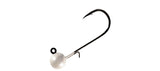 Jig Heads With Wire Keeper
Description
Our Pink Worms Jigs are wildly effective for both summer and winter steelhead. Custom wire keepers molded into the jig head hold your worm securely for hours of hassle free fishing. We added a small dot to the body of the worm allowing for perfect hook placement every time. Each package contains 3 jigs.

Features
Made with Gamakatsu Hooks. 3 jigs per package.